Serving the Fort Bragg, California and Mendocino, California Areas Come Ride With Me Give me a call 707-321-6655
Hello From Obar11 Door to Door. Our hours are 8am to 10PM Sunday, Monday, Tuesday and Thursday. Wednesdays are my days off. Friday and Saturday we are open from 8am to Midnight. Great comments made by our clients > Hi Rex,
>
> Thanks again for a wonderful Saturday in the Anderson Valley - we had
> a blast! I let Margie, the homeowner in Albion, know what a great
> experience we had with you, and she'll refer future guests to you too.
>
> Hope to book you again next year.
>
> Cheers,
> Robyn
I had a great 2.5 hour ride with Rex from Fort Bragg to Santa Rosa airport after a visit with my brother. Rex is a great conversationalist, and it was such an enjoyable conversation that the time literally flew by! He is a good, safe driver and such an interesting and experienced person! I highly recommend any ride with Rex!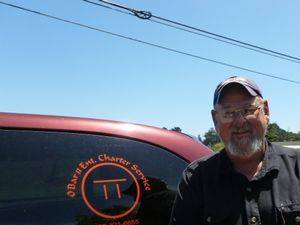 On call six days a week, but closed Wednesday. Sunday,Monday,Tuesday and Thursday we are open from 8:00am to 10:00pm. Friday and Saturday we open at 8:00am and close at 12:00am.

Unless other arrangements are made in advance

. Just call or text 707-321-6655 or e-mail obar11@hotmail.com
Looking for something fun to do, Charter Obar11 Charter Services to take you and yours to Anderson Valley Wineries of your choice. Six Hours For $350.00, one to seven people. $50.00 an hour over the six hours. For more information please call 707-321-6655. Please visit www.avwines.com for a great interactive map of the Anderson Valley Wineries. Bottled water provided. Have an injury? Visit Los Angeles Personal Injury Attorney

Reservations suggested Proud member of Mendocino Coast Chamber of Commerce Licensed and Insured and Drug and Alcohol tested for operations in the state of California
Please "Like" us on Facebook and leave a comment on the contact page. Please leave comments also on YELP.